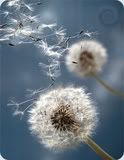 We were walking today on the path between the ponds behind our house. Ben was walking as slowly as he could and Jacob was fussy in the sweaty wrap. I was short of patience in that moment...compliments of the humidity and asked Ben, AGAIN to please walk with Mommy.
"Wait! there is a wishing flower! Can I get the wishing flower?"
"Yes, Ben. One wish."
He grinned that toothy grin and blew as hard as he could with his eyes squeezed shut. He opened them to a scattering of seeds in the air. He smiled content that his wish had taken off.
"What did you wish for, buddy?"
"You."
"Oh? Anything else?"
"No. Just...you."
And he slipped his hand back into mine.