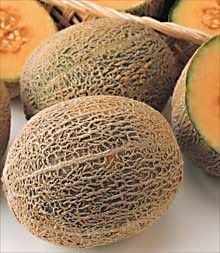 At the grocery store (why do so many of these posts begin this way...why oh why do I keep trying to bring the kids with me anyway???) today I was distracted by a woman who was not eating one grape to see if they were good out of a bag before putting it in her cart but helping herself to small bunches from several bags. These grapes all looked like they came out of the best grape crop ever and in no way warranted a taste...but I didn't care about her grape theft as much as I did about getting myself a bag she hadn't already manhandled and germied up. As I was thinking her really gross and dishonest I was interrupted,
"uh, Ma am?" (let's go back to that for a moment...when did I make the jump from "Ms." to "Ma am???" ew. It makes me feel frumpy.)
I looked beside me to see a woman awkwardly pointing at my son (you know...the one that starts with a "B").
He was hanging out the cart behind me....licking all the cantaloupes.
On a bright note, I did save some money by going to a store without a toy isle. Ben left happily instead with a 6 pack of tin pie plates that he just HAD to have (????) To have an incredibly co operative boy (who licks a cantaloupe now and then) for $1.89 sounds like a deal to me.